Contact Systems

Printing from Windows
We only support printing via the LPD protocol.
Download the printer driver. They are available from the Model link in the printer table below.

Some drivers are executable, and will run install the driver directly, others are archives that can be extracted and used in the following instructions.
Configure Windows 10 to print using LPD protocol
In "Settings" go to "Devices"
Select "Printers & Scanners"
Click "Add a printer or scanner"

Click "The printer that I want isn't listed"

In "Find a printer by other options" select "Add a printer using TCP/IP address or hostname"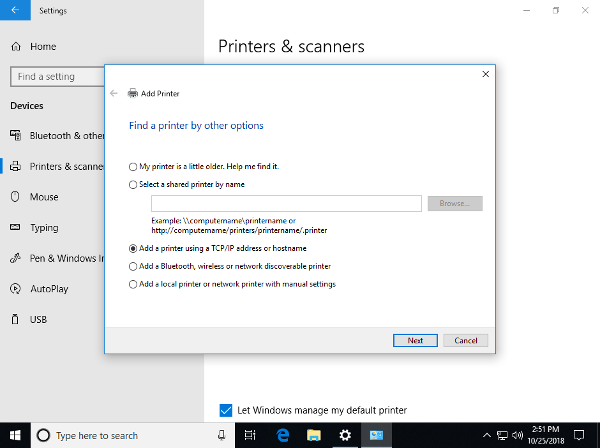 In "Add Printer"

Device type "TCP/IP Device"
Hostname "lp.cs.uoregon.edu"
Uncheck "Query the printer and automatically select the driver to use"

Click "Next" to go to "Detecting TCP/IP"

The system will fail to detect the TCP/IP port
In "Additional port information required", select "Custom", click "Settings..."

Select the "LPR" protocol
Set "Queue Name" to the printer you want to use
Check "LPR Byte Counting Enabled"
click "OK"

Click "Next"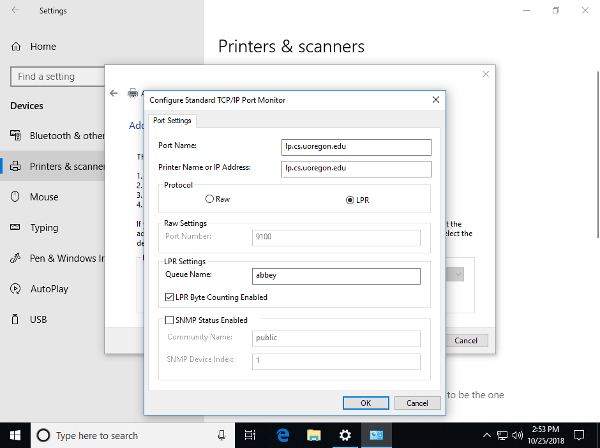 Select the driver for the printer.
Click "Next"
Choose an appropriate "Printer name"
Click "Next"
Do not share the printer
Select the Printer and choose "Manage"

Select "Printer Properties", then "Device Settings"

Change "Duplex Unit" to "Installed"

Select "Ports"
Uncheck "Enable bidirectional support"
Configure Windows 7 to Print using LPD protocol
In the Control Panel > Programs and Features

Turn Windows features on or off, expand Print and Document Services and
select the LPR Monitor Port check box and then click OK

Go to Devices and Printers and click Add a Printer and then (oddly) choose Add a local printer.

Select Create a new port and the Type of port is LPR Port

Then type in the information about the printer

Name of Server: lp.cs.uoregon.edu
Name of printer or queue: goldman (or whichever printer you are trying to add)

Then you get to the printer driver installation. Choose Have Disků, Copy manufacturer's files from, Select the location where you stored the downloaded driver, click OK.

The -x32 or -x64 specifies the 32bit or 64bit version of the driver.

A couple of Nexts and then Printer Name Goldman. Next.
It then says Installing printer. It may show copying files, but I had inconsistent results of what happened next. Once I had to click cancel and the printer worked anyway, but usually after a few minutes you get to the Success page where there is a button to Print Text Page.
Configure Windows XP for LPD protocol
References
See Also