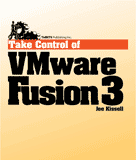 The publisher of Take Control Ebooks with sponsorship from VMware have made the Ebook Take Control of VMware Fusion 3 available as a free PDF download.
From the web site:
"Now that modern Macs use Intel processors, you can run Windows on your Mac without slowdowns or trade-offs, and with the benefit of configuration snapshots, multiple installations, and the capability to mix Windows and Mac applications. In this book by cross-platform expert Joe Kissell, you'll learn how best to install and use Windows in the virtualization environment created by VMware Fusion 3.
The ebook explains new Fusion 3 features, including the redesigned Applications menu, enhanced Virtual Library window, new Preview window (which shows a live thumbnail of your entire Windows Desktop), and improved Unity view. It also discusses Windows 7 and 32-bit vs. 64-bit possibilities."
---

Comments, additions or corrections to systems@cs.uoregon.edu