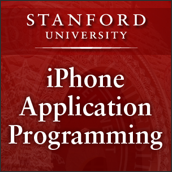 Stanford University's School of Engineering is offering their Spring quarter CS 193P iPhone Application Programming course for free through iTunes U. This is a ten week course that will teach the tools and APIs required to build iPhone applications. User interface design for mobile devices and multitouch technology.
Excerpt from the course syllabus:
We'll start out with an introductory assignment to get familiar with the tools and the Objective C language. After that we'll move to an a couple assignments to get our feet wet with the Cocoa Touch frameworks including a number of the design patterns and UI elements available. Next we'll spend several weeks developing a more complicated application with more features and covering more of the various aspects of the iPhone SDK. There will be a series of weekly assignments that work through various object oriented techniques and areas of functionality in the Cocoa Touch frameworks. We will focus on the Model-View-Controller design that is fundamental to all Cocoa Touch (and Cocoa on Mac OS X) applications. Once we've finished with our application we'll move on to a multi-week final project of your choice.
References
---

Comments, additions or corrections to systems@cs.uoregon.edu